Workshops Flyer
To download the flyer click and drag it to your desktop.
For specific workshop format details scroll further down this page.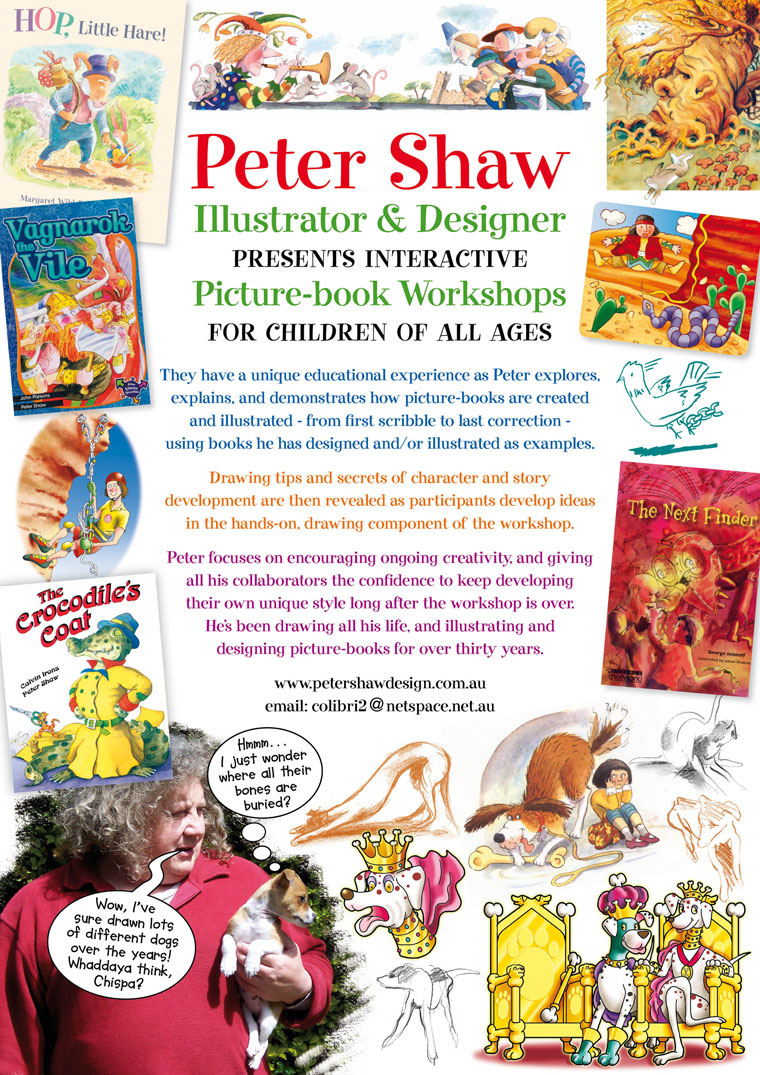 Working with Children Check
Working with Children Check card number: 03807184-01
Workshop Format
Generally 50 - 60 minutes (which can be extended to 2 hrs to allow for an in-depth drawing session).
Equipment Required
An electronic whiteboard or projector connected to a computer into which I can insert a memory stick with a USB connection or a CD-ROM.
For more than 60 students in a single session, a headset or radio microphone is usually required.
One whiteboard or other large, stable surface for me to draw on and/or clip drawing paper to.
This can all be varied with pre-workshop discussion.
Session Structures
Usually Prep to year 2, years 3- 4, years 5-6, years 7-8, etc. Can be varied for each venue.

Workshops Content
All sessions contain a picture book presentation and a hands-on illustration workshop, structured to entertain and inform the year-levels above. Each session generally includes:
A short talk about my motivation and passion for working on picture books

Visual presentation of a how a specific book or books were illustrated

Q & A with the group

The illustration workshop - which encourages students to have confidence in their own drawing and illustration abilities - with a demonstration and some drawing exercises.
Risk Assessment
(required by councils, not schools)
Children to be seated on the floor or at tables for the sessions. I maintain at least a 2 metre distance between my presentation/drawing area and the audience.
Materials Required
Venue to supply at least several sheets of A4 or A3 paper, one greylead pencil or carbon stick, and a suitable drawing surface for each workshop participant. An eraser is optional. From there on, it is drawing, drawing, drawing!
Workshop Fees
One 50-60 minute session: $275
Two 50-60 minute sessions: $450
Three 50-60 minute sessions: $580
Three 50-60 minute sessions plus a fourth 40 minute session for Prep-age children: $690
Price is negotiable if more than two days are involved with the booking.
For bookings more than 125 km by road from Corryong, Victoria, transportation will be additionally charged at 65c/km for any distance over the 250 km round-trip total; bookings for venues more than 450 km round-trip distance from Corryong - involving an overnight or longer stay, require that all meals, accommodation, and if required to fly, air-fares - be organized and paid for by the festival, council, or school making the booking, unless otherwise negotiated.
To discuss your workshop needs or ideas phone +61 02 6076 1269 or email colibri2@netspace.net.au.