Illustration
My favourite illustrators as a kid were Arthur Rackham, Edmund Dulac, and Edward Ardizzone - they could all draw beautifully. The boldness of the black and white drawing in comics and Victorian novels impressed me for years, until I got interested in Van Gogh, Goya and lots of other real artists! Later on Tony Ross, Brad Holland, Ian Pollock, and Folon became favourites because of their unique graphic styles.
As a teenager I wrote and illustrated a couple of picture books for my littlest sister. In doing so, I had to grapple with the difficulties of maintaining continuity and characterisation all the way through a story sequence for the first time. Now I can do it all with ease, 'though a blank sheet of paper still looks a bit scary.
To view some of these illustration styles in detail click on the Illustration sub-menus at left.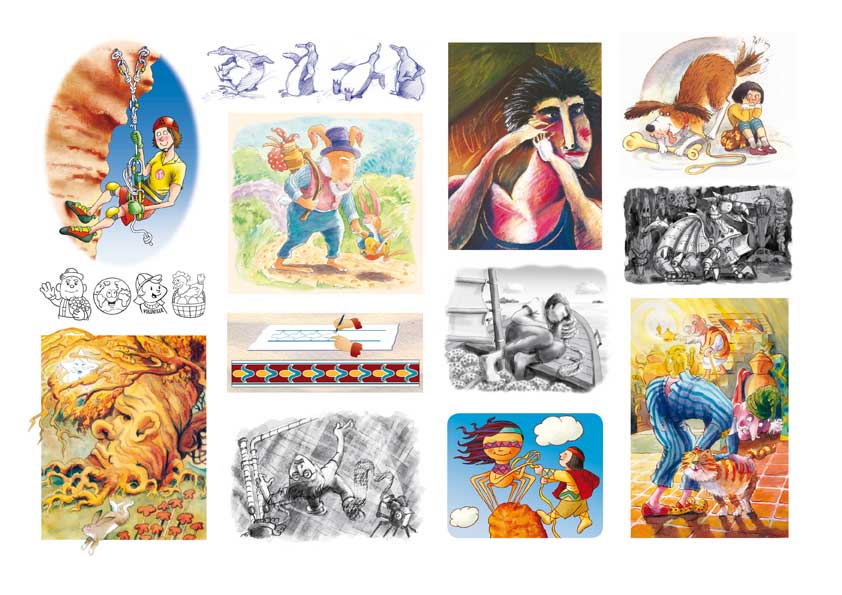 Getting a Start
As a young designer, I had the good fortune to work for a while in a studio at the (then) Victorian Education Department's Special Publications Branch. I was part of a team of very talented, creative people, producing kid's magazines, posters, and education material packaging for use in schools.
Some of the illustrators who worked there have subsequently become very well known and respected in book publishing - Leigh Hobbs, Ann James, and Mark Wilson among them. They taught me about scale, pacing, and spacing a story to create mood, and were always experimenting with new techniques. They were a very generous and encouraging group of people, so I had a great start as a pro illustrator.
Leigh Hobbs: www.leighhobbs.com.au
Ann James: www.booksillustrated.com.au
Mark Wilson : www.marklwilson.com.au
Illustrator as Art Director
I've been in the position several times where I could design and/or art-direct hundreds of books and their illustrators. It's a fantastic position to be in, as long as you choose the right person for the right job! Briefing other illustrators and discussing the best approach to take to a story is always a terrific time. They never do what you expect - it's almost always much, much better.
It's been my privilege to work with illustrators like Terry Denton, Marjory Gardner, Tracy Grimwood, Craig Smith, and Mitch Vane, . . . so many good people, and to see their mode of working from beginning to end. It's taught me a lot about process and technique, even though our drawing styles are all so different.
Terry Denton: http://web.me.com/terry_denton/Site/Home.html
Marjory Gardner: www.marjorygardner.com
Tracie Grimwood: www.traciegrimwood.com.au
Craig Smith: www.craigsmithillustration.com.au
Mitch Vane: www.mitchvane.com
Remote Art Direction
Over the past couple of years I've art-directed some large projects, using illustrators from Mexico and Argentina. They have completely different approaches, both stylistically and editorially, to Australian illustrators, drawing on much older and deeper sources of visual currency - e.g. the Aztec and the Maya cultures of Mexico. I can achieve a great result with them because I speak Spanish, and as an illustrator I understand the processes and time involved to work in particular media.