About Peter Shaw

Life Cycle
I grew up in Corryong, in North-Eastern Victoria, Australia, and spent a lot of my childhood on friends' farms trying not to get kicked by cranky heifers, swimming in local creeks, and roaming around in the mad scramble of the Australian bush poking things - and running into, and falling off other things. Ouch! But . . . somehow, grouse!
After many years spent living in ever-busier Melbourne, and travelling the globe, I've returned to live and work in this beautiful corner of Australia. Now I might trip over echidnas or eyeball an eagle any time I step out the door. And still jump off Towong bridge, as long as it's rickety, wobbly, wooden deck is left standing. Cool! Especially in February.
It ought to be classified by the National Trust and B-Double trucks banned from using it so it lasts a few more years. Although . . . it's great when the whole bridge's groaning and rumbling while you're up on it anywhere as a truck passes - even if you could get your fingers crushed between moving bits of timber - then someone from the Council might get serious about banning people jumping off, putting up 'No-Jumping' signs, barbed wire parapets or something equally pointless. No, let's just leave it as a repository of brave deeds and tall stories about the day . . . Mumbles/Fiona/Wanga/Shaz did a double-back-somersault-with-two-full-twists and a humungous 'horsey' that frightened fish all the way to Walwa.
A Long Graphic Life
I missed out on finger-painting at kindergarten 'coz I didn't get to go - it was a new concept - but I remember drawing a particularly handsome elephant when I was four-years-old. Hmmm! . . . I STILL wonder where that ended up? But, when I did a torn-paper clown-collage at five I knew I was on my way. 2-D space seemed a lot easier to negotiate than any other D-space I'd come across to that point.
My elder brother and sisters had suitcases and boxes full of comics from all genres, hidden under their beds, spilling from old fruit crates in the laundry, and stacked in suitcases out on the verandah, thus I learnt to read two very powerful languages at an early age - visual and verbal - and how they could be related - or even be different, but complementary, in the same story. And every night I was read an exotic story by a family of enthusiastic story-tellers from some gloriously illustrated book of folk or fairy-tales, with pictures by people like Edmund Dulac or Arthur Rackham.
Between the Catholic primary school and church that I attended, and omnipresent religious calendars at home I was exposed to some pretty graphic imagery at an early age. Some of it was sublime, some just downright gruesome, but always very interesting from both a story-telling and conceptual point of view. The Holy Spirit and angels were my favourites - the creative impulse, and the messengers.
Then I added the language of (mostly) B-grade Hollywood flicks to my armoury, haunting the two local cinemas every week. Matinees were a highlight - what can compare to the sound of a Coke bottle or Jaffas rolling or bouncing along a wooden floor, rattling into seats, accompanied by the hoots, jeers, tears, and fears of hundreds of kids? Disney's Fantasia was nothing like anything I'd ever seen before, Mum wouldn't let me go to see Barbarella, and Kurosawa had to wait 'til I tripped over him much later.
I became a mad Collingwood supporter because a mate's mate wore their jumper. I fell in love with those bold black and white stripes playing kick-to-kick under a street-light - it's that simple, you couldn't see the other kids! In fact, I love all the very bold, heraldic-styled uniforms of the original VFL clubs, especially Melbourne's red socks. I play footy for the Corryong version of the Demons, and those red socks are a beacon when you've got your head down in a pack. I just wish we could get rid of the all the ineffectual sponsors' logos - like some weird, viral disease they seem to have spread by themselves and get in the way of the 'BAM-M-M!' effect of the jumpers. Hey! It's not like we're on TV.
Art, literature, French, history, maths, and science were all favourite subjects at school. Physics and Goya made my brain explode, and Chaucer made the English language make sense. Studying French made Chaucer make sense, and I still love the sound of that beautiful hybrid - Franglish - but I still can't get my head around wave theory. Picasso once said, 'If you don't understand something it will help you understand something else.' I subscribe to his theory.
While studying Graphic Design at the Swinburne Institute of Technology, Melbourne, I worked out that regular drawing helped me to make really quick design decisions, and that I loved the poetic nature of photography, so I still do both. There is NO substitute for being able to draw if you are a visual communicator, so . . . draw . . . a lot! I also fell in love with type and letter-forms as an illustrative component, and quickly understood their effect as the predominant texture in most publications. Typography is as important as drawing, so I play with the rhythm of different letters as often as possible, falling in love with with new ones all the time.
After graduating from my design course, I travelled to Japan, the first place I ever encountered that design was very important in a culture. Everybody there seemed to be a specialist at doing something really, really well and a design aesthetic permeated the entire culture. The culture is inherently graphic - people can't help themselves - they've been solving design probems for 2000 years. As a designer, you've gotta love the place. I've also spent quite a few years travelling in Europe, North Africa, and South America, snapping photos for stock use, and to exhibit. Look at the photography page of this site for more of that.
My first jobs out of design college were in small graphic design studios, advertising agencies, and for Australian publishers Longman Cheshire, Oxford University Press, and Macmillan. I quickly gained enough experience to be useful, and met some fantastic, experienced designers and editors, who opened up whole new worlds of language and images to me. Then I went freelance to specialise in book design, children's book illustration, and photography, which is what I've been doing ever since. A variety of my early work is shown below.
Along the way I've gained extensive experience as art director and studio/project manager in teams working on large, complex, literacy and mathematics projects for Ibis Publishing, Longman-Pearson, Macmillan, McGraw-Hill, and Mimosa Publications, some of which have taken years to complete. I'm a good leader/director so I have the ability to evaluate situations and people quickly, giving each team member the right tasks in proportion to their talent and/or experience - and have well and truly mastered the art of compromise with my clients so we get a mutually satisfactory solution to their design problems.
The examples below show a fragment of Mimosa's Growing With Mathematics program, developed over 3-4 years, and adopted for use in USA primary schools. This program has hundreds of varied components, spread over seven levels. The core curriculum components are contained in a Teacher's File box for each level. Many other unique components are supplied as separate kits that required extensive development, testing, and modification of realistic mock-ups and models before specialist manufacturers were involved for final production.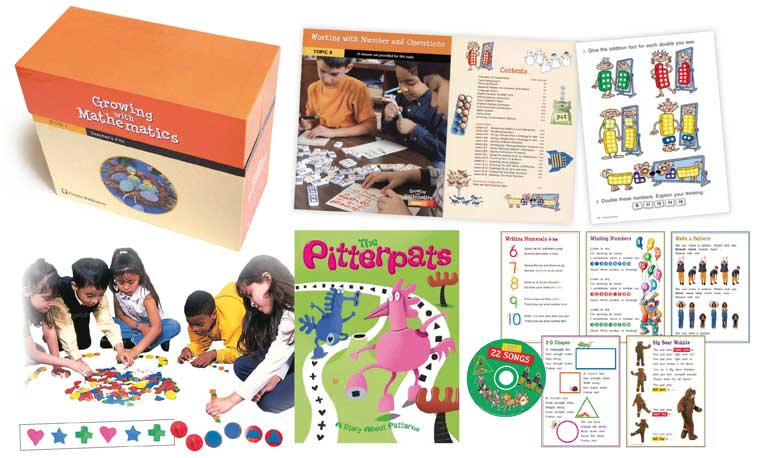 I've been fortunate to work with people from many different countries during my career, which has further broadened my approach to designing. Fluency in Spanish has enabled me to brief and collaborate with teams of illustrators and designers in Mexico and Argentina, while working on these McGraw-Hill ESL (English as a Second Language) projects over the last few years.
My work appears in hundreds of trade and educational publications produced for a variety of Australian and international publishers and has received numerous nominations for the annual Australian Publishers' Association Awards and Excellence in Educational Publishing Awards. Some of the nominated books are shown below.
I've spent a long time learning how to master many different media, so I use all sorts of materials and processes to create something from nothing: digital software, water-colour, other paints, coloured pencil, pastel, charcoal, pen, brush and ink, collage . . . and hay!